Are you looking for Heber City Utah dental crown procedures but you're unsure as to whether it's the right path to take? Then the following article could prove to be invaluable in answering any questions you might have.
What is a Dental Crown?
A dental crown is a cosmetic restoration that is used to either strengthen the tooth, improve its overall shape, or alter the appearance of it. A necessary restoration for when a tooth is worn, partially destroyed by tooth decay, or broken, it's a better alternative to a filling.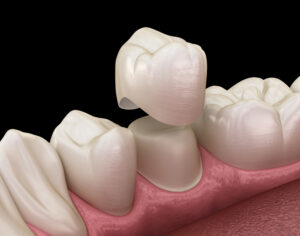 If a tooth is cracked, a dental crown will hold the tooth together so that the damage within it doesn't get worse. They are also used as a way of supporting a filling and protecting weak teeth from further fracturing. However, unlike a filling, a crown is created away from the mouth in a lab beforehand using an impression of your tooth. 
Sculpted bespoke to you, you won't have to worry about abnormal movements in your jaw or bite.
Types of Dental Crowns
Dental crowns can be made from a range of different materials, including:
Ceramic

Porcelain (the most popular choice due to the translucent appearance)

Zirconia

Metal

Composite resin
Do Dental Crowns Look Natural?
Unlike silver or gold fillings, dental crowns look like natural teeth. To achieve this look, the dentist will consider the shape, length, bite, and color of your natural teeth. This will ensure that once the procedure is complete, your teeth will not only be physically stronger, but also more attractive. 
If you have any preferences over the look of the crown, you can also discuss this with your dentist during the first consultation. 
Crowns vs Veneers
If you're wondering whether you should opt for crowns or veneers, it's a good idea to compare them. One big difference between the two is that crowns will require more tooth structure removal than veneers do. 
Although this might seem daunting, it means that crowns will cover more of the tooth and are more suitable for teeth that have sustained a significant structure loss. Unlike veneers, they can be used on both dental implants and natural teeth.
How To Care For Your Dental Crown 
After having a dental crown procedure in Heber City Utah, it's vital that you follow the appropriate aftercare. By taking care of it, you'll be able to prolong its life. Although your dentist will guide you after the procedure, here are some useful tips:
Practice careful brushing

– following the procedure, make sure that you carefully brush your teeth twice a day with toothpaste designed for sensitive teeth.

Floss regularly

– to ensure that your teeth don't attract harmful bacteria.

Avoid hard foods

– by ignoring this, you could find that you crack your crown.
How Long Do Dental Crowns Last?
The average lifespan of a dental crown is between 5 to 15 years. The lifespan will depend on the material that it's made from and the aftercare that you follow. 
Contact Prince Dental Group Today
To find out more about the Heber City Utah dental crown procedure, don't hesitate to get in contact with Prince Dental Group Today. Located in Midway, Utah, we are your first port of call for any dental procedures you require in Midway or Heber City. 
You can get in contact with us by either calling us at (435) 729-7090, emailing us at [email protected], or requesting an appointment through our website.