Tooth loss can sometimes be a cause of great stress, and understandably so. It can deprive you of that perfect smile you always wanted and even take a toll on your self-esteem and confidence. Your restorative options include dental implants and dentures. Both come with their own sets of pros and cons. And you need to weigh each option carefully to help you decide which option is best for you. This article will juxtapose both options to make your choice easier.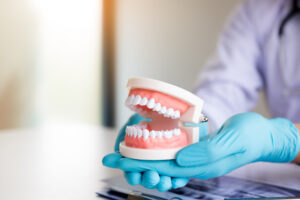 What Are Dentures?
Dentures are removable prosthetic devices used to replace missing teeth as well as some of your gum tissue. Most dentures come with an acrylic base that looks close to a pink gum color and serves as the base support for the denture teeth. Some dentures may also come with a lightweight metal frame that serves as a source of extra support and strength. You can choose between complete and partial dentures. The complete option will replace the teeth in either or both jaws, while the partial option is only used to fill in gaps. 
Pros
Dentures are mostly less costly compared to implants.

You can use dentures to replace gum and bone loss, unlike implants that will be anchored to the bone.

The procedure needed to fix dentures is non-invasive and doesn't require drilling into the bone or online dental implants. 

Plus, the procedure for dentures also takes a shorter time to complete, as compared to implants. 
Cons
You may need to revisit your dentist for replacements or adjustments if your facial or gum structure changes with age. 

Dentures require getting used to, as they can be pretty uncomfortable, especially during the first couple of days of wearing them.

They require regular care, just like normal teeth. Poor hygiene can lead to infection around the gums.
Dental Implants
Dental implants are metal posts used to replace the root portion of missing teeth. Usually, in the form of a titanium post, the dental implant is inserted into the jawbone to act just like the natural tooth's root. This procedure offers a permanent restorative solution to missing teeth. 
Pros
Dental implants have an impressive success rate of about 95%.

They can hold up for up to 20 years or even more, making them a very long-lasting solution.

Unlike dentures, dental implants are less challenging to maintain.

Their design also means that they preserve your facial structure and natural bones without affecting bone growth.
Cons
Dentures are cheaper when compared to implants. 

Not everyone can qualify to have dental implants since the procedure requires healthy gums and bones to secure the jaw properly. Although you can opt for tissue grafts, this will only add to your expenses. 
What To Consider When Deciding Between Dentures And Implants
Here are a few other factors to think about before making your final choice. 
Insurance coverage: Most implant procedures don't come with insurance coverage, as they're classified as cosmetic. Dentures, however, usually have insurance coverage. 
Appearance: Dentures can feel bulky, while implants give you a look closer to your natural one.
Whatever your decision on dentures vs dental implants, you can rely on reliable dentists like Prince Dental Group in Midway, Utah, to assist.